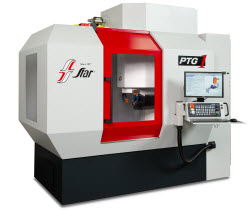 The Star PTG 1 hob sharpening and tool reconditioning grinder is an affordable solution for hob sharpening and in-house tool maintenance. Equipped with a manual HSK spindle, this machine is ideal for repetitive jobs without changes in setup, particularly during the manufacturing and resharpening of the following:
Straight & Spiral Gash Hobs
Dish, Shank & Helical Gear Shaper Cutters
Wide Range of Round Tools
The PTG 1 sharpens both straight and spiral gash hob designs up to 8" OD x 10" OAL. Additionally, the PTG 1 sharpens disk, shank and helical type shaper cutters and a wide range of round tools, making it a versatile tool room machine.