Extend Tool Life with Protective Tool Coating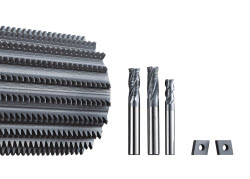 Star SU tool coatings are done in cooperation with Oerlikon Balzers. Oerlikon Balzers Tool Coatings utilize the highest degree of technology in all aspects of the coating process to insure that the maximum quality coatings are deposited on the customer's tools. The cleaning lines, vacuum chambers and inspection equipment are state-of-the-art and unsurpassed by any other provider of PVD coatings. Our own technical expertise and the expertise of Oerlikon Balzers allows Star SU to provide customer support in helping determine the best coating for any application.
A Wide Selection of Tool Coatings
All Balzers thin film coatings are available to customers through the U.S., Canada, and Mexico. Coating types are tailored for different operating conditions.
Oerlikon Balzers Tool Coatings Chart
| | | | | |
| --- | --- | --- | --- | --- |
| BALINIT®COATINGS | Coating Material (color) | Microhardness (HV 0.05) | Friction coefficient against steel (dry) | Max. service temperature (Deg. C) |
| Balinit A | TiN (gold/yellow) | 2300 | 0.4 | 600 |
| Balinit ALCRONA | AlCrN (blue/grey) | 3200 | .035 | 1100 |
| Balinit B | TiCN (blue-grey) | 3000 | 0.4 | 400 |
| Balinit C Star | CrN+a-C:H:W (anthracite) | 1000/1500 | 0.1 - 0.2 | 300 |
| Balinit C | WC/C (a-C:H:W) (anthracite) | 1500/1000 | 0.1 - 0.2 | 300 |
| Balinit Cast | CrC (silver/grey) | 2200 | 0.5 | 700 |
| Balinit CNI | CrN (silver/grey) | 1750 | 0.5 | 700 |
| Balinit CROVEGA | CrN (silver/grey) | 1750 | 0.5 | 700 |
| Balinit D | CrN (silver/grey) | 1750 | 0.5 | 700 |
| Balinit DIAMOND | PCD (grey) | >8000 | 0.15 - 0.20 | 600 |
| Balinit DLC STAR | CrN+a-C:H (black) | >2000 | 0.1 - 0.2 | 350 |
| Balinit DLC | a-C:H (black) | >2000 | 0.1 - 0.2 | 350 |
| Balinit FUTURA NANO | TiAlN (violet/grey) | 3300 | 0.30 - 0.35 | 900 |
| Balinit FUTURA TOP | TiAlN (violet/grey) | 3300 | 0.25 | 900 |
| Balinit G | TiCN + TiN (gold/yellow) | 3000 | 0.4 | 400 |
| Balinit HARDLUBE | TiAlN+WC/C (a-C:H:W) (dark grey) | 3000 | 0.15 - 0.20 | 800 |
| Balinit HELICA | AlCr-based (copper) | 3000 | 0.25 | 1100 |
| Balinit LUMENA | TiAlN (violet/grey) | 3400 | 0.30 - 0.35 | 900 |
| Balinit MICRAN | TiAlN (violet/grey) | 3300 | 0.30 - 0.35 | 900 |
| Balinit TRITON | a-C:H (black) | 2500 | 0.10 - 0.20 | 350 |
| Balinit X.CEED | TiAlN (blue/grey) | 3300 | 0.4 | 900 |
| Balinit X.CELL | TiCrN (dark grey) | 2100 | 0.5 | 700 |